N
IM-100
Inverted
Metall
urgical
M
icroscope
Summary
It
has an infinity optical system that provides excellent optical performance.It can be used to observe and identify the organization of various metals and alloys. Its comfortable and stable mirror mechanism, efficient and convenient stage design, easy and quick operation, suitable for long-term easy operation in schools and industrial and mining enterprises.
Feature
1. Infinitive optical system providing excellent optical functions.
2. With the stable stand structure, advanced stage design and comfortable operation.
3. It is widely used in institute and laboratory to observe and identify the structure of various metal and alloy.
Configuration
Viewing Head

Trinocular

head Inclined at

30°,

interpupillary

48-75mm

S

Eyepiece

High eye point, super large field of view eyepiece EW10×/20

S

Infinite Plan Achromatic Objective

4×/0.

1/

∞

/-

WD 17.3mm

S

5

×/0.

12

/

∞

/- WD 15.4mm

S

10

×

/0.25 /

∞

/- WD 10.2mm

S

2

0×/0.

40

/

∞

/- WD 5.10 mm

S

4

0×/0.

6

5

/

∞

/- WD 0.52mm

O

5

0×/0.

75

/

∞

/- WD 0.32mm

O

80

×/0.

90/

∞

/- WD 0.20mm

O

100

×/0.

90/

∞

/- WD 0.70mm

O

Converter

Five-hole converter

S

Mechanical stage

Mechanical moving ruler, right hand low position coaxial X, Y direction knob

O

Focal length adjustment

Coaxial coarse and fine focusing mechanism, which can adjust the focus by the up and down movement of the converter, the coarse adjustment stroke is 37.7mm per revolution, and the fine adjustment stroke is 0.2mm per revolution.

S

Cora Lighting

6V/ 30W Halogen lamp

S

Filter

Blue, yellow, green, frosted glass

S

Camera interface

Standard C interface

O

Digital imaging system

HD imaging system

O

Software

Professional metallographic analysis software

O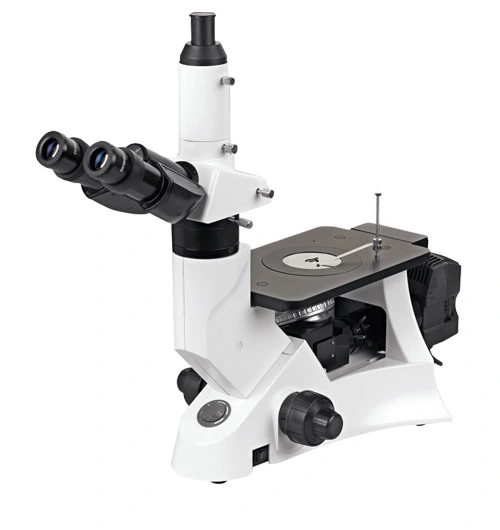 Packing & Shipping