Price of Operating Microscope for ophthalmology
Model:MCE-YZ20T9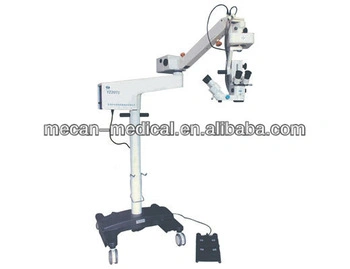 The product is a double binocular operation microscope designed for two men.It has excellent optical performance and it is comfortable to be used.
Detailed profile
Characteristics:
Advanced apochromatic technology and unique optical balanced technology effectively improves the binocular visual fusions, strengthenes in third dimension and reduces surgeon's tireness during operations.
Fine focusing knob is under the bottom of assistant binocular. The observation of the assistant's microscope can be finely focused independently of the main microscope to avoid different observation from surgeons.
20°oblique illumination can also be used as slit illumination. Slit width is continuously adjustable.
For ophthalmic use
Specifications:
| | |
| --- | --- |
| Eyepiece Magnification | 12.5X/18B |
| Objective Lens | f=200 |
| Working Distance | 190mm |
| Magnifications for Main Microscope | 4X,6X,10X,16X,25X |
| Magnifications for Assistant Microscope | 6X,10X,14X |
| Diameter of Field | 58mm,38mm,23mm,14mm,9mm |
| Diopter Adjustment | ±7D |
| Pupil Distance | 50mm~75mm |
| Maximal Resolution | 119 LP/mm |
| Focusing Range for Assistant Microscope | ≥30mm |
| Illumination Source | 12V/100W,Cold Reflection Halogen Bulb for Medical Use |
| Illumination Type | 6°+0°coaxial illumination of cold light source and 20°Oblique Illumination (It can be used as slit illumination) Slit Width is adjustable |
| Coaxial Illumination | ≥50000lx |
| Oblique Illumination | ≥45000lx |
| Reaching Radius of Arm | 1240mm |
| Adjustable Vertical Range | 850mm~1350mm |
| Fine Focusing Speed and Range | ≤2mm/s,≥50mm |
| Speed for X/Y and Range | ≤2mm/s,50mmX50mm |
| Input Voltage | AC220V±22V/50Hz±1Hz, AC110V±11V/60Hz±1Hz |
| Power | 330VA |
| Fuse | AC250V T4.0A,AC125V T8.0A |
| Electrical Safety Standard | Executive standard :GB9706.1-2007,Class I |
| Packing Volume | 0.786m3,5cartons |
| Total Weight | 213kg |
related products