Trinocular microscope with Interpupilary distance:48mm-76mm
1. Description
A biological microscope is a precision optical instrument used to observe biological sections, biological cells, bacteria, living tissue culture, and fluid sedimentation. It can also observe other transparent or translucent objects as well as objects such as powder and fine particles. The biological microscope is used for the observation of microorganisms, cells, bacteria, tissue culture, suspensions, sediments, etc. in medical and health units, universities, and research institutes. It can continuously observe the process of cell and bacteria reproduction and division in culture fluid Wait. It is widely used in cytology, parasitology, oncology, immunology, genetic engineering, industrial microbiology, and botany. Its optical technical parameters include: numerical aperture, resolution, magnification, focal depth, field of view width, poor coverage, working distance, etc. These parameters are not all as high as possible. They are both interrelated and restricted. In practical applications, the relationship between the parameters should be coordinated according to the purpose of the microscopy and the actual situation on the basis of ensuring the resolution.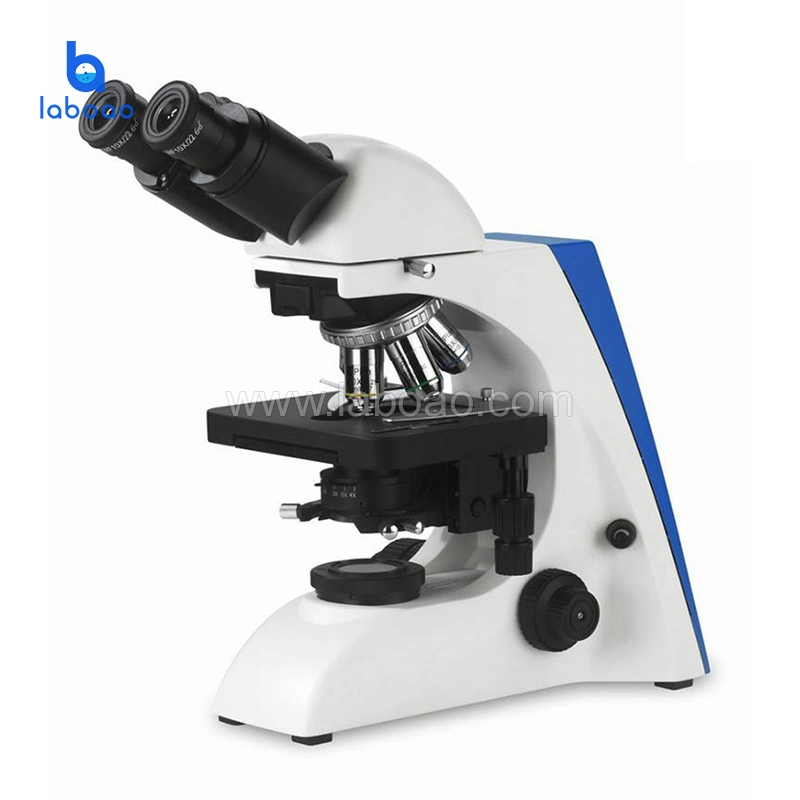 2.Feature
Wide field eyepiece, view field up to Φ22mm,more comfortable for observation
Trinocular observing tube with dual transform
Light distribution (both): 100 : 0(100% for eyepiece)80 : 20(80% for trinocular head and 20% for eyepiece)
Integrated stage is safer than traditional stage
Quintuple turret phase contrast unit with 10X/20X/40X/100X infinity plan phase contrast objective for phase contrast and bright field observation.
N.A.0.9/0.13 Swing-out Condenser
Dark field condenser(dry)available to 4X-40X Objective
Dark field condenser (wet) available to 100X Objective
3. Specification

Items

Specification

Outfits

Eyepiece

WF10×

/

22mm (adjustable)

Infinity Plan Objectives

PLAN 4×

/

0.10

W.D.=12.10mm

PLAN 10×

/

0.25

W.D.=4.64mm

PLAN 20×

/

0.40(S)

W.D.=2.41mm

PLAN 40×

/

0.66(S)

W.D.=0.65mm

PLAN 100×

/

1.25(S, Oil)

W.D.=0.12mm

PLAN 2.5×

/

0.07

W.D.=8.47mm

○

PLAN 60×

/

0.80(S)

W.D.=0.33mm

○

PLAN 100×

/

1.15(S, W)

W.D.=0.19mm

○

Seidentopf Binocular Head

Inclined 30°,rotatable 360°, Interpupilary distance:48mm-76mm

Seidentopf Trinocular Head

Inclined 30°, rotatable 360°, Interpupilary distance:48mm-76mm,
Light distribution (both): 100: 0

(

100% for eyepiece

)




80:20

(

80% for trinocular head and 20% for eyepiece

)

○

Nosepiece

Quintuple

Mechanical Stage

Integrated stage


Stage size: 182 mm×140mm,Travel range: 77mm×52mm
Two-slide holder

Swing Out Condenser

N.A. 0.9/0.13, Swing out with iris diaphragm.

Koehler Illumination

6V/30W Halogen Lamp




Wide voltage input: 100V

~

240V




Field diaphragm , center adjustable

Filter

Blue

Green /Amber /Grey

○

C-mount

1×/0.5×/0.75×C-mount (focus adjustable

○

Fluorescence Attachment

Epi fluorescence unit ( six-hole disc media which can be fixed with Uv /V/B/G and another filters) ,100W mercury lamp.

○

Epi fluorescence unit ( six-hole disc media which can be fixed Uv /V/B/G), LED fluorescence lamp

.

○

Phase Contrast Unit

Quintuple hole turret




10× /20× /40× /100× phase contrast objective

○

Independent slot




10× /20× /40× /100× phase contrast objective

○

Dark Field Unit

Dark field condenser (dry)

,

apply to 4×- 40× objective

○

Dark field condenser (wet)

,

apply to 100× objective

○

Polarizing Attachment

Analyzer / Polarizer

○
Note: " "In Table Is Standard outfits, "○" Is Optional Accessories.
Packing Size:520mm×475mm×285mm Gross Weight: 12 kgs Net Weight: 10kgs